I put my blog about ISA09 SF and 4CTHEPOWER Workshop aside for now because I want to share my HB09 experience and Epik Movement SF and LA. Ever since this year started, I've been a failure in taking pictures during events even if I have 2 cameras with me during events (I KNOW). Some of the pictures here are from my camera and the others are from my friends (THANKS, CHINGOOS!).

(The annual Korean Music Festival shouldn't even be called HB, but it sure is a lot easier to call it HB since it's always held at the Hollywood Bowl LOL)

FRIDAY – Mare and I met up with the girls at Ktown Plaza food court for dinner with FM (minus J-Splif and DJ Virman) and the FM Minnesota Street Team. After this, we headed to our hotel (Wilshire Grand) and on our way upstairs, there were sooooooo many fangirls and fanboys by the elevators waiting for the artists and I guess we've attracted a lot of attention because there were a lot of us and we had so many things (mainly my shit). We hopped on the elevator and this was wherein I found out where SHINee and SS501 were staying at, so we kept pressing buttons LOL When we went inside the room, we found our friend Linda inside and exchanged hugs (we only see her once a year). She already had some alcohol, so we decided to drink as well. Mare was the bartender of that weekend and here's the proof.



after dinner with FM



PRoHgress and Diffa and us in the back



Mare and I



peer pressure at its finest

After a few drinks, Mare + Emily and I went on an alcohol run and we kind of got lost so we were roaming around for an hour LOL We changed to swim gear and headed to the pool and joined the other girls. I didn't swim right away because I wanted to bond with the other girls that were there. When I finally decided to jump in, I didn't realize that I jumped on the 7 ft. area and water shot up my nose which caused major irritation and I couldn't swim ashore. FAIL. FUCKING FAIL! Everyone else left but Mare and I, so we decided to chill for a little bit and since our hotel room is one of the suites on the last 3 floors, we had to call someone to get us (you need a key card to get on the last 3 floors). While waiting and dripping wet at the lobby, 5 of SNSD (Soo Young, Yuri, Jessica, Tae Yeon and Sunny) came in one of the double doors and walked by us. It was a bit embarrassing, but I was too amazed at how pretty they look without make-up and they just nonchalantly walked by! Finally, Justine came down and we all headed up to our room, showered and changed. Mare decided to go home at 3-ish a.m. because her parents weren't home and her siblings are home alone and one of them is with the girlfriend at home, so she and I went home together. I slept over at her house instead of coming home (I'll be in deep shit if I did!).

SATURDAY – Mare and I got ready to drive back to LA and meet up with the rest of the girls and Mama D at the California Pizza Kitchen across our hotel room. After lunch, we walked back to our hotel room to get more of our things and I had to change shoes (I looked like a YG Trainee that day). Oh yeah, I spotted this celebreality show star Shawn from VH1's Tool Academy and he looked like he lost weight! I felt relieved that one of the girls followed the show and someone was able to relate to me LOL There were 14 of us in total, so we decided to rent two van services. The first 7 (Monica, Linda, Justine,
l0venlaughter (Yvonne),
jecamooz (Carol), Mike and ate Sabrina) and 7 in my van were
taaammy (Tammy), Mare, myself, Mama D, Kenna, Diffa and Leeann. When we arrived, BB's "So Fresh So Cool" song was playing because there were Hite booths in the area. We scouted the entire lot for free stuff including blankets, soy bean chocolate (tastes like spoiled milk), phone book, glowsticks, pens, shirts, iced coffee from McDonald's and a lot more. Oh, while we were in line for free iced coffee, there's this unnie/noona/ahjumma that has TAEMIN and MINHO written on her face. Talk about "it's written all over my face" LITERALLY. I couldn't help but crack up in front of her because having those names on her face is an official proclamation that she is a pedophile!!! Various songs from SNSD, SuJu, Big Bang were playing and I couldn't help but dance to "Sorry Sorry" and "Sunset Glow". A lot of shameless Soshi fans were dancing to "Gee" and a couple of white girls dancing to "Sorry Sorry" were in the middle of the pathway. Mare and I spotted
the7real (Jeri7yn, who sat with us) and
liliabloom, so we had to wait for
itswinniechu because we thought that the other two girls who were sitting with us were with her and another friend (Eve). We ended up waiting longer for our "boxmates" and good thing we made it inside before the show started. I had to hide my DSLR because they're not allowed inside (only professionals). We felt regretful because we didn't bring food with us and I had to depend on my package of Hi-Chew to survive the night and fight off my hunger. This one girl next to me was eating away. I swear, I wanted to steal her bag! Anyways, here are some pics from the concert.



us before the concert



Kim Tae Woo oppa singing the Korean national anthem



streamers after the song



Mare and Lily's happy ass



Son Ho Young
OMFG HE IS SO CUTE!



the crowd behind us



Korean Air employees - yes, they are singers too



Lee Juk with Tae Yeon of SNSD



Baek Ji Young



Kim Chang Wan Band
Remember Manager Hong from Coffee Prince?



Lily's sign for Onew



Lena Park with Jessica of SNSD



Lena Park



Kim Tae Woo



that rapper with Tae Woo oppa has some serious swag goin' on.



mini-g.o.d. reunion minus Danny



SHINee<33333



SNSD



SS501



THEY'RE ALLLLLLLLLLL GORGEOUS IN PERSON!!!!!


I lost my voice right after SHINee's performance because all I kept screaming was "JONGHYUUUUUUUUNNNNNNNNNNNN!!!" as if my Life depended on it, not to mention when SS501 came out – I kept yelling Baby's (Hyungjun) name, Sunbae's (Hyunjoong) and Kyujong's. During "U R Man", I kept screaming "YES YOU ARE!" when they'd sing the line "I'm your man" and I feel sorry for whoever has my screams on their fancams. Only g.o.d. (minus Danny) and SS501 came out for the last performance/encore stage. We were wondering where everyone's at most especially the SM talents...

After the concert, we all met up by the parking lot (We're all separated) and were spazzing to death because of the g.o.d semi-reunion, SHINee and SS501. We headed back to the hotel and chilled at the lobby. We ordered some pizza and Mama D didn't know that I baked a chocolate banana cake + I bought a trophy at Aahs! that says "World's Best Mom" as a gift (Mother's Day). The process to bring down the cake was tricky because Mama D was with me, Mare, Leeann and Carol. At first, we were stalking because SHINee and SS501 were already in their rooms. Jongmin of SS501 kept appearing wherever we went and the last time we saw him, he tried to play it off that he need to make a "u-turn" and went back to his room LMAO After eating, everyone went upstairs except for
im0ntop, Linda, Mare, Winnie, Yvonne and I.

SUNDAY - We stayed downstairs until 4 a.m. just chatting and hoping that the oppas would walk by drunk or something. We headed upstairs to shower and sleep. Everyone knocked the fuck out, while I showered, blow dried and flat ironed my hair and finished by 6 a.m. Yes, I took a nap and woke up hours later to send SHINee off. We went down to the 9th floor to wake up the other girls and also for Tammy to be able to give her gift to Minho because she wasn't successful the night before (He just bowed at Tammy and forgot to get his present! FAIL). We were lucky that we were on time to wait for SHINee. While all those fangirls were waiting by the elevators, we were chillin' by the lobby (where we hung out) and SHINee walked by there. Tammy and the rest of us were yelling for Minho's name (while I was staring at Jonghyun) to get his attention but he wouldn't look. Monica pushed Tammy towards Minho (thank you Onew for walking fast or else you would've gotten hit!) and was able to hand her gift to him!!! It was so cute because Minho smiled when he looked at it and I wanted to cry because Tammy's wish came true! We went after SHINee who were walking towards their van. All of the fangirls that went after them were squeezing in front of the van while I'm eyeing Jonghyun on the side. My other friends were close to the trunk that happened to be open, so Key was in sight and we yelled "COME BACK NEXT YEAR!" which their other fans didn't think of yelling. They were too busy yelling names and the boys weren't even looking LMAO



This is so quick.
Tammy's the one in the black hoody/glasses.

I took this picture of Tammy before HB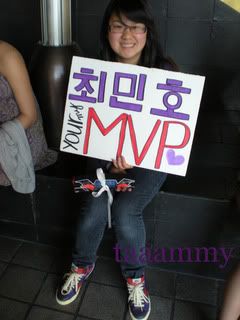 The shirt that she handed to Minho is worn by

After that, we headed back up to get free breakfast and had a quick recap of what happened to Tammy and what we're doing next. We went to our designated rooms to pack and on our way to the parking lot, Son Ho Young was coming out (I missed this part) to leave and my friend Mare was able to say hi and bye to his fine ass!!! We had to go back up to the rooms because we had a lot of things. On the SS501 floor, their fans were waiting by the couch that's like a waiting area and every time we get off that floor (it's the same floor as my friends' room), they'd be staring us down. We didn't let it bother us until later, we saw them literally walking by the rooms of the SS501 members with their cameras on and recording stuff (DISRESPECTFUL BITCHES!) that led to us calling the front desk for security. Unfortunately, some of my friends were accused of stalking the boys, so the manager was yelling at my friend Mare in Korean and ushering her towards the elevators. This one fangirl had the absolute nerve to tell Mare "Yeah, he meant you guys" which really pissed her off. After hauling our shit, we were waiting for SS501 to come out (I was determined to see Baby!) but we kept getting false info. I was too annoyed for Mare, so I was trying to look for that Valerie bitch (oh yeah, found out her name because she's an acquaintance of Tammy) but we just ended up chillin' and taking pictures. Finally, SS501 came down at the same time we were leaving. I was determined to be noticed by Baby and I SUCCEEDED! I stuck my hand out and Jongmin shook it and then I felt a second hand touch it and I had to blink to confirm it and it was HYUNGJUN!!! My heart was beating so fast that I couldn't breathe! Saying goodbye to the girls and Mama D was difficult because my heart was racing and I was afraid that if I come near anyone, they'd feel my chest leaping for joy! We all left Wilshire Grand with happy faces and hearts. My heart was still beating fast on the way home and both Mare and I weren't speaking until she asked me if I wanted to eat. I knew that I'm hungry, yet I was too excited. I think my heart was stable when I finally had a sip of root beer. I seriously can't wait for next year =)